47
+
MobiApp Developers
& Designers
Who are we?
At MobiAppNinjas, we have a team of experienced mobile app developers & designers who can turn your app idea into reality with sophisticated operational efficiency.
MobiAppNinjas has been serving the industry for the last 9 years, and we are profound in delivering the most complicated and demanding mobile app development solutions.
By following, MobiAppNinjas has Achieved the Milestone of onboarding 100+ Staff and delivering 100+ App Projects Successfully.
Also, having an experience of successfully executing over 100+ projects.
Whether you are a startup, small or mid-sized company, or enterprise, we help all create result-driven mobile applications on the choice of your platform. We have successfully deployed 100+ projects and are still developing several using React. If you have any, count us as your technology partner.
Experience
MobiAppNinjas team has vast experience in developing a host of mobile app features and functionality for different industries.
Expertise
We have expertise in designing stable, safe, easy to navigate and cost effective custom multi-device mobile applications.
Venture
Showing activity, dynamism, and venture in finding imaginative and inventive answers for your mobile application stage's necessity inside the domain of custom mobile app development is our strength.
MobiAppNinjas Process
Analyzing
As a mobile application development company and IT solution provider, MobiAppNinjas specializes in developing, analyzing, designing, and launching mobile applications.
2
Reserve
While continuing towards execution, we ensure that we preserve the information of your application and spot it cautiously. Substitution of a current web app to the updated one.
Launch
Mobile application testing is a procedure to test apps for usability, functionality, and consistency glitches. Testing your web applications under our QA is mandatory before delivering them to the client.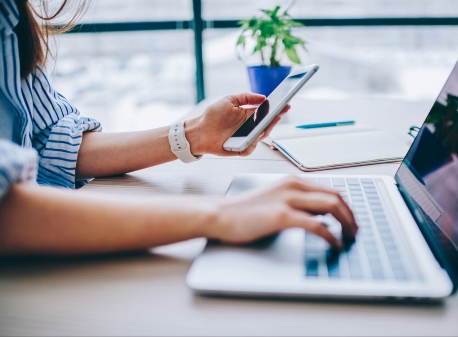 MobiAppNinjas Advantages
Expert team work on your project for the best results.
Constantly monitoring of security and upgrade features.
In-depth QA test before deployment of an application.
Relentless investigation of Security and Upgrade highlights.
Experience in delivering promising results of upgrading App.
Deliver glitch-free transition to the latest version by monitoring the process constantly.
How much experience do you have in building a mobile application for Industry solutions?
+
What are the requirements needed to make a mobile application?
+
Can I hire a mobile app developer on a project-based or hourly basis?
+